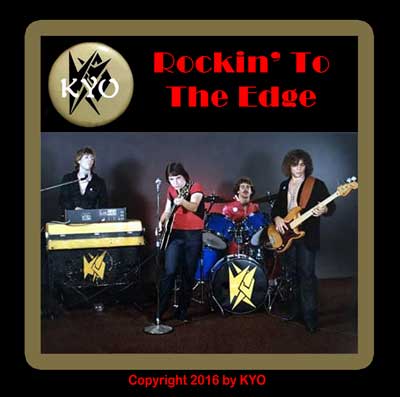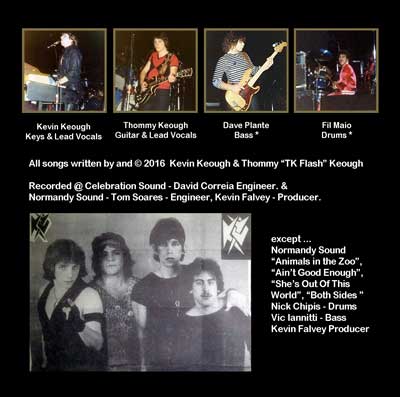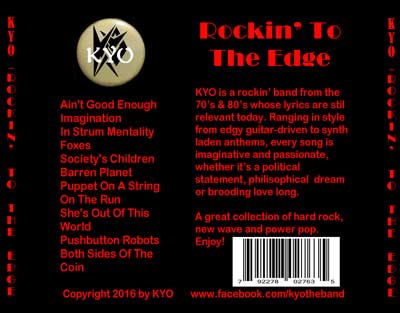 "Rockin' to the Edge" was recorded at Celebration Sound Recording with Dave Correa and Dan Moretti and at Normandy Sound owned by Phil Greene with engineer Tom Soares at the board. The Normandy tapes were produced by Kevin Falvey.
Tracks:
Animals In The Zoo - As a child and teen Kevin was not comfortable seeing animals in cages. Later in his teens he realized we are all in cages of some sort or another, so this song translates to humans as city dwellers and cubical rats as well. But it has a nice lighthearted Reggae feel to it to lighten the subject matter.
Ain't Good Enough - Romantic angst, broken hearts. If I'm not good enough for you (not rich enough, good looking enough, etc) , then maybe you're not good enough for me. Nice smooth rocker.
Imagination - A vital element of any creative person. This song implores the listener to bust through the limitations placed upon us and to explore the unknown. A driving guitar heavy rocker.
In Strum Mentality - A medium paced rocker with doubled guitar and synths, shifting betwenn a poppy verse and rockin chorus.
Foxes - What rock band would be complete without a song or two about getting the girls!
Society's Children - A narrative about a couple of young misfit kids who fall in love and together make a place for themselves and others in this misguided world of social pressures and generational restrictions.
Barren Planet - A rumbly pop punk rocker about the destruction of the planet by irresponsible politics and commercialism. After the distortion driven verse we're treated to a poppy fast-paced chorus!
Puppet On A String - The 60's were a period of unrest and political protests. This anti-war song was created as a response to the Viet Nam war. Many freiends were drafted into a war they didn't understand, almost as if they were mere puppets with no power of their own. Great synth section in the middle imitating machine guns and bombs dropping.
On The Run - The life of crime seems like the only option to some poverty stricken individuals. But this rocker warns that if you live by the sword you die by the sword.
She's Out Of This World - Fast-paced new wave song about, you guessed it, a girl ... an electric lover!
Pushbutton Robots - Similar in subject matter to Puppet on a String, but with a very different musical approach. Nicely distorted guitar leads the way, with anarchist vocal style and clashing cymbals!
Both Sides Of The Coin - High speed free jam rocker about the duality of life...wealth, poverty, war, peace.

KYO is a rockin' band from the 70's & 80's whose lyrics are stil relevant today. Ranging in style from edgy guitar-driven to synth laden anthems, every song is imaginative and passionate, whether it's a political
statement, philisophical dream or brooding love long.
A great collection of hard rock, new wave, futuristicballads and power pop. Enjoy!