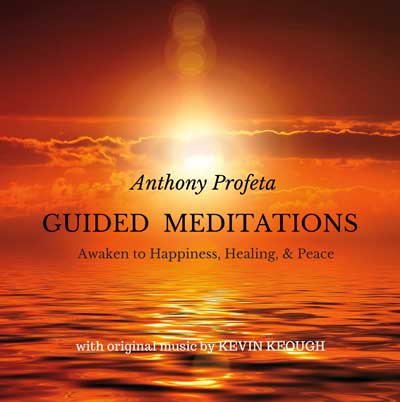 Album Notes
Anthony Profeta is a medical student turned Meditation Teacher. His passion for meditation began after his initiation into a formal practice in 2000. He's studied with some well-known teachers; and received training in various monasteries and meditation centers throughout the US. He was first taught to meditate through Mantra & Visualization techniques. But, for nearly a decade, the focus of his personal practice has been on the Mindfulness/Insight Techniques; such as Zazen (Zen Meditation) & Vipassana Meditation.
Kevin Keough is a singer/songwriter/composer whose creations evoke compassion, serenity and spiritual discovery. His ongoing work includes New Age, Chant, Guided Meditations, Progressive and Film Soundtracks for which he has won awards and recognition from The SENE Music Festival and The Grammys. Kevin views his music as a karmic and loving service to others, and enjoys living in the present moment. Sit back, get comfortable, and let go as meditation teacher, Anthony Profeta, guides you on a journey to happiness, peace, love, & connection with your Higher Self. Anthony's meditations are perfectly blended with the healing & relaxing music of SENE & Grammy recognized composer, Kevin Keough. Their collaboration makes this a perfect CD for beginners and seasoned meditators alike.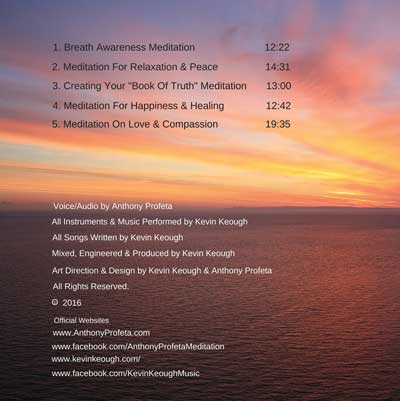 Alexandria




I LOVE this album!




So glad I got this. I download the album this morning and have already listened to it twice. I have never been able to relax so fully & quickly.

Read more...



John M.




Superb! Helps me get very calm.




1. I like the voice. Some meditation I just can't get into because of the speaker's voice. I always like when you can listen to the samples and decide if the voice is going to work for you.
2. I like the visualization meditations & affirmations.
3. The music & background sounds are very calming. Help me to get deep.
Highly recommended meditation CD!

Read more...



Mark




Very pleasant journey




Wonderful CD. I am somewhat new to meditation. But, the guidance helped me to travel inward as the music made me feel very relaxed.

Read more...